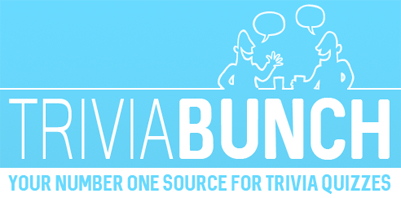 Trivia Quiz : Scoring higher than 6/10 is wishful thinking.
Question 1 of 10
Catherine Zeta-Jones is married to which Hollywood star?
Question 2 of 10
Which plant is partial to insects for lunch?
Question 3 of 10
KeyCorp has which ticker symbol?
Question 4 of 10
Who got on the charts with 'I Just Called to Say I Love You'?
Question 5 of 10
Comerica Inc. has which ticker symbol?
Question 6 of 10
Which material is used to create the central part of the snowboard?
Question 7 of 10
Which Astaire-Rogers film had the Oscar-winner "Cheek to Cheek"
Question 8 of 10
Ryan Reynolds married which of these actresses in 2008?
Question 9 of 10
Who is generally credited with first publishing the periodic table?
Question 10 of 10
Wake Me Up Before You Go-Go was sang by whom in 1984?