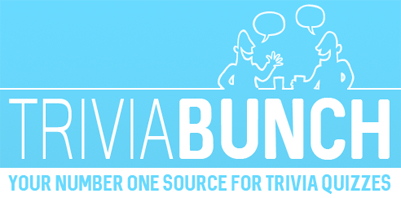 Music Quiz
Question 1 of 10
The title of Jim Reeves hit 'Adios Amigo' is in which language?
Question 2 of 10
What number is missing from the Ringo Starr hit: 'You're ...'?
Question 3 of 10
Released in 1989, what famous pop star sang 'Like a Prayer?'
Question 4 of 10
Which of these could be considered a country music star?
Question 5 of 10
What rock singer's real name is David Robert Jones?
Question 6 of 10
Fairport Convention's 1969 hit 'Si Tu Dois Partir' is sung in which language?
Question 7 of 10
What song has the line, 'Close your mouth and open up your heart and baby satisfy me'?
Question 8 of 10
What sort of choir sang some anti education lyrics on Pink Floyd's 1979 hit,' Another Brick In The Wall'?
Question 9 of 10
How many 'Problems' did Jay-Z have in his 2004 single?
Question 10 of 10
In which group would you have found the Appleton sisters?