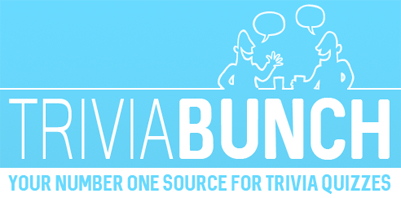 Music Quiz
Question 1 of 10
In what country was music artist Bob Marley born?
Question 2 of 10
Which Don sang about 'Vincent'?
Question 3 of 10
Who did the McCoys tell to 'hang on'?
Question 4 of 10
Whose fender stratocaster guitar sold at Sotheby's for u198,000 in 1990?
Question 5 of 10
What song has the line, 'I'm beautiful in my way, 'cause God makes no mistakes, I'm on the right track baby'?
Question 6 of 10
Which musical features the song starting with 'Money makes the world go around'?
Question 7 of 10
Which film soundtrack featured Geri Halliwell's version of 'It's Raining Men' in 2001?
Question 8 of 10
Which of these Elvis songs is not the name of a movie starring Elvis?
Question 9 of 10
What musical artists real name is Stacy Ferguson?
Question 10 of 10
What is the name of the British singer-songwriter who topped the Billboard 200 in 2011 with her album '21'?