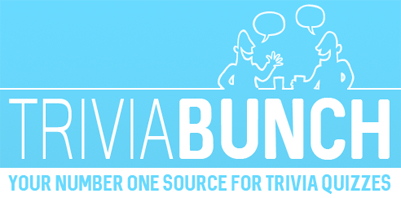 History Quiz
Question 1 of 10
What was the first name of Mr Jobs, who resigned as Apple boss in 2011?
Question 2 of 10
Who shot Lee Harvey Oswald?
Question 3 of 10
Who arrived in Massachusetts from England in 1620?
Question 4 of 10
The famous explorer Christopher Columbus came from which European country?
Question 5 of 10
Sir Anthony Blunt was convicted of spying for which country in the 1970s?
Question 6 of 10
The fashion of body care was widespread in Rome: where was the "calidarium" located?
Question 7 of 10
What is the name of the Italian family that started making firearms in 1556?
Question 8 of 10
Queen Mary was buried in which castle in 1953, to the west of London?
Question 9 of 10
Which of these is a news headline from the 80s?
Question 10 of 10
Golda Meir was elected first female leader of which country in March 1969?

More trivia fun from us