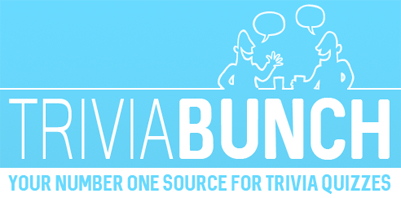 Trivia Quiz
Question 1 of 10
Which of these is not a river?
Question 2 of 10
Which country's name is an anagram of PURE?
Question 3 of 10
Correctly spell another term for breadth?
Question 4 of 10
The sharp angles and vivid hues Pablo Picasso painted were inspired by tribal masks from where?
Question 5 of 10
Who fought in the 1702-1713 Queen Anne's War?
Question 6 of 10
What is the technical term for the body of an airplane?
Question 7 of 10
From which great poet of ancient Greece did we derive the expression "the rosy fingered Aurora"?
Question 8 of 10
In what year did these events happen: NATO is established; Mao Zedong proclaims the People's Republic of China; and West Germany is created?
Question 9 of 10
Apple's iOS 7 was released in which year?
Question 10 of 10
In which year did the war of the League of Cambrai begin?